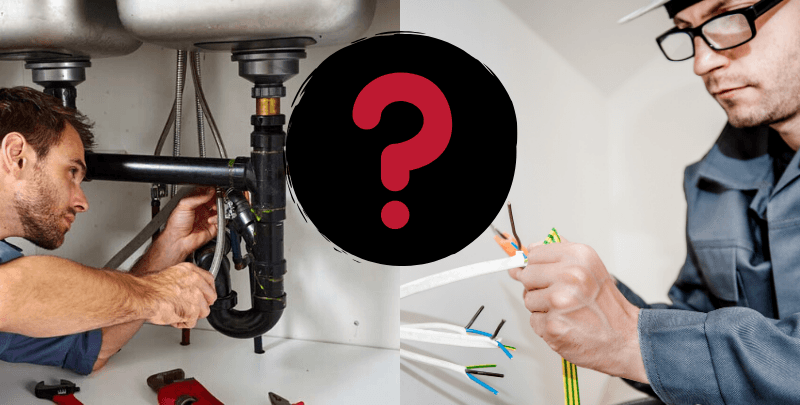 A Hot Water Emergency
You've got no hot water but don't know who to call to get your water heater repaired. Do you need a gas fitter? A plumber? What about an electrician? Until you figure out who to call, you'll need to brace yourself for some cold water coming from that hot water tap.
Who you call depends on what type of hot water system you have, how much hot water you use and the problems it is experiencing. A gas instantaneous hot water system can have very different issues to electric hot water systems. This means you might need to do some troubleshooting before you make a call.
Who Do You Call for Hot Water Heater Repairs?
Knowing who to call to repair your water heater goes beyond just checking out what type of system you have. Just because you have an electric storage hot water system doesn't mean you'll need an electrician – a plumber might be better suited to the job.
We've listed some signs to watch out for that will help identify who you need to call for emergency hot water repair or replacement.
When to Call an Electrician for Water Heater Repairs
A plumber is usually your first point of call when you're in need of hot water system repairs. lthough there are instances where an electrician is required.
Usually, you'll need an electrician for hot water system repairs when:
You believe the circuit breaker for your system has tripped and will not stay on
Your water is warm but not cold – this could be a thermostat issue
A fuse is blown
While you'll typically need an electrician for electric hot water system repairs, even modern gas hot water systems need some electricity to get the pilot light working.
An electrician can also help lower your energy costs by offering advice on how to use off peak electricity to power your hot water system.
When to Call a Plumber
More often than not, you'll need a plumber to repair hot water systems. Most plumbers are also gas fitters and will be able to help you with gas water heaters too.
You should always call a plumber for a hot water issue when:
You see water leaking from your hot water system
No water is flowing from your taps
Your system is powered by natural gas or LPG (liquefied petroleum gas)
Your hot water system is rusty or the water is discoloured
You have hot water pressure issues
Your hot water system is more than 10 years old
Hot water system repair is a specialist field. A plumber has the experience, skills and tools to repair these problems.
What Types of Hot Water Systems Can a Plumber Repair?
Plumbers can be your go-to heroes when your hot water heater decides to take a vacation from heating water. They're skilled at fixing a variety of hot water systems, so let's dive into the types they can repair.
Conventional storage tank water heaters: These are the most common type in homes. Plumbers can handle issues like leaks, thermostat problems, and sediment build up, ensuring your tank runs efficiently. If you need a new hot water heater, most plumbers can install a gas or electric storage tank.
Tankless hot water heaters: Also known as a continuous flow or instantaneous system, these units heat water as you need it. Plumbers can troubleshoot problems with the burner, gas supply, or flow rate to keep your showers hot. Gas and electric instantaneous water heaters both require specialist expertise.
Heat pump water heaters: These eco-friendly units use heat from the air to warm water. When it comes heat pump systems, plumbers can fix issues related to the heat pump, refrigerant, or electrical components.
Solar hot water system: Solar panels on your roof capture the sun's energy to heat water. Plumbers can repair solar collectors, pipes, and circulation systems to keep your hot water flowing.
Hybrid water heaters: Combining tank and tankless elements, plumbers can tackle both storage and instant heating issues in these units.
Condensing water heaters: These high-efficiency models can develop problems with the condenser or exhaust systems, which plumbers can address.
Even the best hot water systems can go wrong. Whether your hot water system is conventional or cutting-edge, plumbers have the expertise to diagnose and repair the issues, so you can enjoy those soothing hot showers again. From a natural gas hot water system to solar hot water systems, a fully qualified plumber/gas fitter will have the versatility to deliver a long-term solution.
Still Not Sure?
Hot water systems aren't always forthcoming with their problems. So, when in doubt, your best bet is to call a plumber. Should you need an electrician, they'll be able to refer you to one.
Here at Mr Emergency, you have the best of both worlds. Our team is made up of the best plumbers, gas fitters, and electricians in the hot water industry. Regardless of what problem your hot water system is facing, we have the professional technicians you need to get it sorted.
Is it Better to Repair or Replace Water Heater?
Depending on the extent of repairs needed, you might be better off replacing the whole hot water system, rather than repairing it. Here are some things to watch out for that suggest a replacement is better than repairs:
Your hot water system is 10 or more years old
You're needing repairs more frequently and it's getting costlier
Your electricity bill has increased significantly for no reason
Your water heater is very energy inefficient
Quite often, upgrading to a new system will mean you also have cheaper running costs as they offer improved energy efficiency. They'll also be better for the environment.
From gas storage systems or solar hot water systems to a continuous flow system, a hot water specialist will be able to advise you on the best system for your property.
Hot water repairs can be confusing. Gas water heaters are very different from a heat pump unit, while electric hot water systems have their own specific needs. Hot water specialists can solve the problem and even recommend the right hot water system for your home.
How Much Does It Typically Cost to Replace a Hot Water Heater?
Hot water replacements or repairs are problem that you can't really put (off unless you enjoy cold showers). You need hot water at all times of the day, it doesn't matter if it's to wash clothes or dishes. So, when a hot water system emergency strikes, we know how stressful it can be trying to find the money at short notice.
Leave that stress behind with our range of interest free** payment plans. Some plans even accept a $0 deposit, so you pay nothing upfront. You can get the hot water running again then and there, without paying anything upfront. There's no need to delay emergency hot water repairs or hot water maintenance.
Are you ready to have a Mr Emergency plumber or electrician out for hot water repairs? We can service or replace most major brands. Contact us now for same-day service and we'll get your hot water running again today.
Mr Emergency is available 24/7, every day of the year, including weekends and public holidays.
Please note: This information is provided for advice purposes only. Regulations differ from state to state, so please consult your local authorities or an industry professional before proceeding with any work. See our Terms & Conditions here.